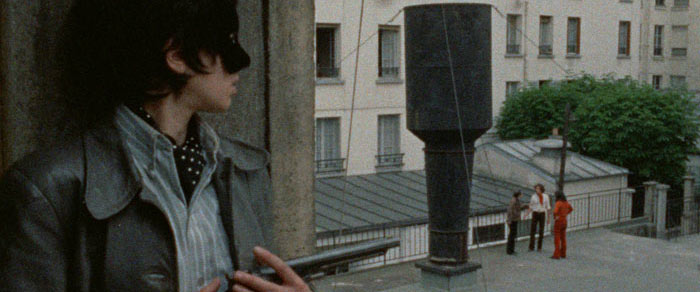 LIMITED EDITION DELUXE BOX SET
DUAL FORMAT 6 BLU-RAYs™ & 7 DVDs + 120-PAGE BOOKLET
SUPERVISED BY ROBERT FISCHER, DIRECTOR AND FILM HISTORIAN

NEW 2K RESTORATION SUPERVISED AND APPROVED
BY PIERRE-WILLIAM GLENN, DIRECTOR OF PHOTOGRAPHY
AVAILABLE FOR THE FIRST TIME
BOTH VERSIONS OF "OUT 1":
"NOLI ME TANGERE" (1971, 8 EPISODES – 12H55)
"SPECTRE" (1974, FEATURE FILM – 4H24)
+ A NEW FULL-LENGTH DOCUMENTARY
THE MYSTERIES OF PARIS:
JACQUES RIVETTE'S "OUT 1" REVISITED

directed by Robert Fischer and Wilfried Reichart (2015 – COLOR – 110 MINUTES)
Forty-five years after Out 1 was made, documentary filmmakers Robert Fischer and Wilfried Reichart interviewed cast and crew members and revisited some of the film's most significant locations. The Mysteries of Paris features new contributions from actors Bulle Ogier, Michael Lonsdale and Hermine Karagheuz, director of photography Pierre-William Glenn, assistant director Jean-François Stévenin and producer Stéphane Tchal Gadjieff, rare archival interviews with actors Jacques Doniol-Valcroze and Michel Delahaye and, most prominently, illuminating statements by director Jacques Rivette himself.
+ AN EXCLUSIVE 120–PAGE BOOKLET
"OUT 1 AND ITS DOUBLE"
(BILINGUAL ENGLISH / FRENCH)


//

Read a few pages

//
Featuring a new essay by Jonathan Rosenbaum (film scholar and Jacques Rivette specialist), and rare archival texts, illustrated by original stills by photographer Pierre Zucca.
TECHNICAL SPECS
6 BD • MASTERED IN HIGH DEFINITION • 1080/23.98p • AVC
French 1.0 PCM • English Subtitles
1.37:1 Original Aspect Ratio • Color + B&W
Total Running Time (Noli me tangere): 775 Minutes
Running Time (Spectre): 264 Minutes

7 DVD • MASTERED IN HIGH DEFINITION • NTSC • MPEG-2
French 1.0 Dolby Digital • English Subtitles
1.33:1 Original Aspect Ratio • 4:3 • Color + B&W
Total Running Time (Noli me tangere): 775 Minutes
Running Time (Spectre): 264 Minutes

RRP: $99.95